Discover more from The Experiment
The Experiment is an early '60s TV talk show hosted by Jason Stanford. Every week he opens with a monologue before sharing the stage with a curated stable of writers before offering suggestions on what to do, read, watch, and listen to.
Over 2,000 subscribers
Fascism
The soul of our nation is on the ballot this November.
In July, Matt Zeller contributed the Presidential Daily Briefing to The Experiment. He's back with horror and heartbreak at seeing his homeland slide into what he sees as fascism.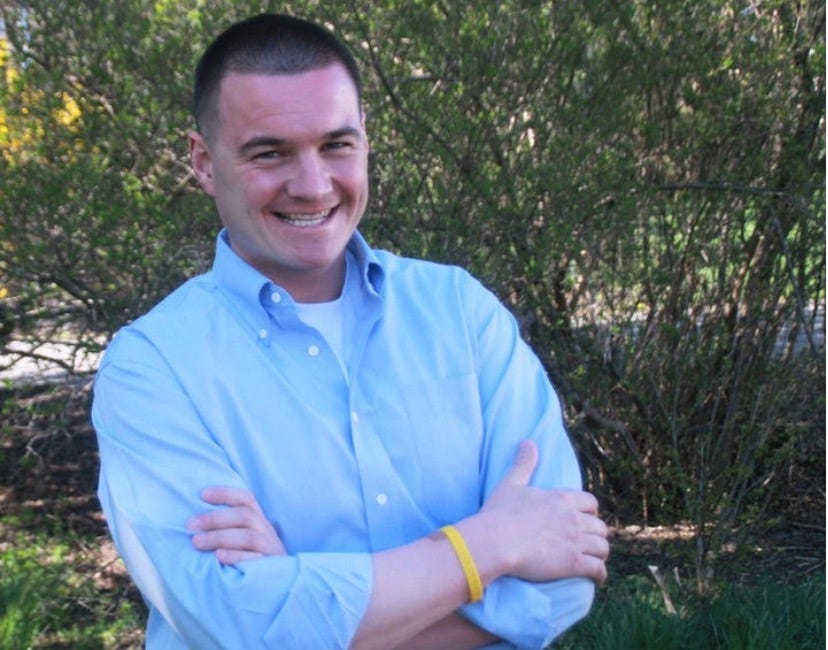 The car, a silver four door mini-SUV with no markings, sits idling at the closed gate to an underground garage. People begin to mill about the car when suddenly, the rear driver's side door flings open, and out runs a woman in shackles. She screams, "Help!" She looks terrified. She's running for her life. Seconds later, the driver and passenger side doors open to the car, and out run two large men in baseball caps, sunglasses, and T-shirts. They chase after her. People filming the scene are aghast. The man filming the camera shares my bewilderment when he exclaims, "What the fuck!?" The cameraman immediately gives chase yelling, "Help her! Help her!" The men catch up to the woman and tackle her to the ground. She continues to scream for her life, "Let go of me! You're hurting me! Help me! Someone help me!" A crowd forms around the scuffle. Some brave women move in and try to pry the men off the woman. The cameraman notices one of the men has his right hand resting on a pistol in its holster. He yells "Watch his hands, he's got a gun!" Seconds later, the crowd starts screaming for a medic as the woman lays on the ground convalescing in what appeared to be a seizure. 
As I sat watching this horrible scene unfold on my phone on the other side of the country, aghast and appalled, I found myself overcome with emotion. I wanted to have been there, to have helped that woman, to have taken a bat to the would-be-kidnappers. They wore no official markings, presented no identification as law enforcement – at that point, they are just two random dudes chasing a woman in shackles who has fled from a car. What if it was a human kidnapping or human trafficking attempt gone wrong? We have rules for arrest in this country to prevent the very type of constitutional infringement on display in this scene. 
Later I learned these were two undercover FBI agents who had arrested the woman on a large drug charge. Of course they wouldn't want to identify themselves in front of cameras to the world – their job is to remain hidden so that they can better do their job. But this has what Trump's misuse of US troops and police has brought us to – deep mistrust on all sides. 
Then I felt shame. I love my country. I served it in the Army for over 13 years and deployed to Afghanistan in its defense. I gave the better part of my youth to my country – joining a line of ancestors whose service dates back to our War for Independence. America was my first love, and other than my family, the only one I've held so dear. That love has been raped and violated by Trump and his ilk. Look at what he has brought to us – some of us genuinely fear American Gestapo, who openly kidnap our fellow citizens and the most we can do is film it on our phones (for now). 
I took a walk by the World War II memorial in Washington, DC recently to remind myself of that pre-Trump sense of American pride. I wondered if it still remained after watching a close friend get shot in the face with a tear gas canister the night before in my hometown of Rochester. She livestreamed the whole event. What I and the world saw on that stream was a riot initiated and conducted by the police, the very people who are supposed to be protecting us and helping to protect our constitutional rights.
I know members of the Rochester Police Department – I deployed with them as members of the New York Army National Guard to Afghanistan. This event shattered me to my core, so I went to the memorial – my favorite in all of DC – to find that sense of pride again. The inscription at the head of the memorial reads, "Here in the presence of Washington and Lincoln, one the eighteenth century father and the other the nineteenth century preserver of our nation, we honor those twentieth century Americans who took up the struggle during the second world war and made the sacrifices to perpetuate the gift our forefathers entrusted to us – a Nation conceived in liberty and justice." What would those men and women, who bore us this gift, think of how we've squandered it? 
The soul of our nation is on the ballot this November. If you can, please vote for Joe Biden. We will not survive another four years of this. I've seen war firsthand. I've been shot at and blown up. It is a nightmare I live with daily, a scar I wear with pride, even as it defaces. You do not want to live what comes next if Trump wins. The cost will be staggering. If we do not stop this slide into fascism now, then all that came before, all that suffering and sacrifice, will be in vain. If we truly want to say never again and mean it, to better ourselves once and for all, this election is our time.
Vote.
Our country needs you now more than ever.
Vote.
Zeller is also the Co-Founder of No One Left Behind, a Truman National Security Fellow and an adjunct fellow at the American Security Project. He authored Watches Without Time (Just World Books, 2012), which chronicles his experience serving as an embedded combat adviser with the Afghan security forces in Ghazni, Afghanistan, in 2008. He was the Democratic nominee for Congress in 2010 in NY's 29th Congressional District, which was a crappy year to run as a Democrat. He earned a BA in Government from Hamilton College and a MPA and a MA-IR from The Maxwell School at Syracuse University. 
---
What do you think of today's email? I'd love to hear your thoughts, questions and feedback. I might even put 'em in the newsletter if I don't steal it outright.
Enjoying this newsletter? Forward to a friend! They can sign up here. Unless of course you were forwarded this email, in which case you should…
Want a way to send gifts and support local restaurants? Goldbelly's got you hooked up. 
I used this to order scotch delivered right to my door. Recommend.
Thanks to Noom I am down to my college weight, and haven't had to cut out any foods. Noom is an app that uses psychology, calorie counting, and measuring activity to change your behavior and the way you think about food. I'm stronger and healthier than I've been in years. Click on the blue box to get 20% off. 
Want a way to send gifts and support local restaurants? Goldbelly's got you hooked up. 
I now offer personal coaching sessions through Need Hop. 
If this newsletter is of some value to you, consider donating. Honestly, I'm not doing this for the money. I'm writing this newsletter for myself, and for you. And a lot of you are contributing with letters and by suggesting articles for me to post. But some of you have asked for a way to donate money, so I'm posting my Venmo and PayPal information here. I promise to waste every cent you give me on having fun, because writing this newsletter for you is some of the most fun I've had. Venmo me at @Jason-Stanford-1, or use this PayPal link.