An Ode to Letters to the Editor
A former newspaper man tells us what letters to the editor are really saying
As a longstanding newsletter publisher for more than a year now, I am saddened to offer the following bootless bruit of one Omar Gallaga, who in betimes wrote for the local broadsheet but now freelances words in trade. Today, he offers up this ode to the letters to the editor.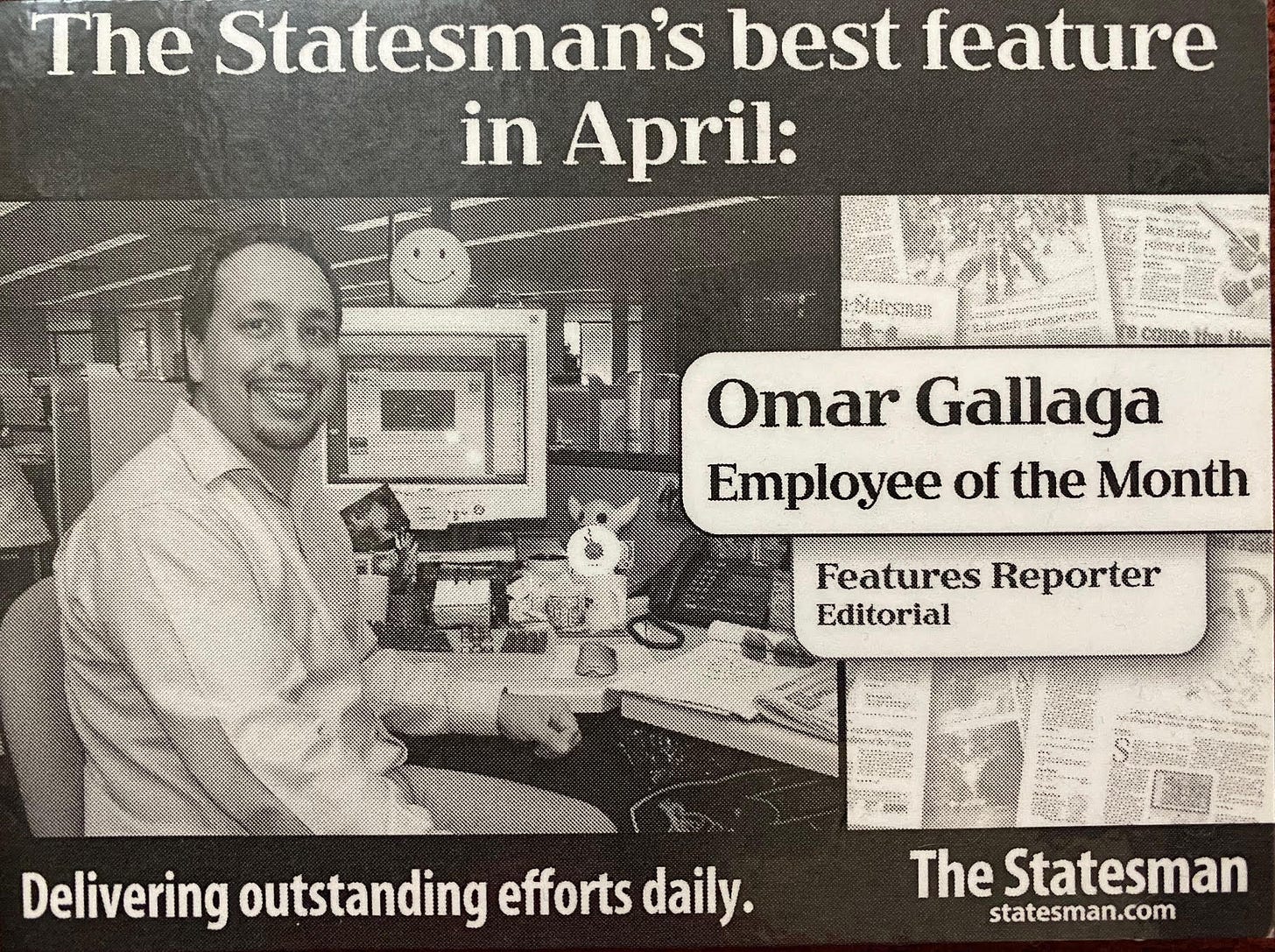 by Omar L. Gallaga
When I began reading the Letters to the Editor every day, in 1997, it was for all the reasons a new intern at a newspaper would do so. Some of it was vanity. I was always looking to see if something I wrote warranted a letter, angry or praiseworthy, that something I wrote caused someone to put pen to paper or fingers to keyboard. I also wanted to get to know my new community of Austin, Texas; I figured hearing what the concerns of its citizens were day by day was a good, efficient way to do that.
Later, it was about self preservation as a reporter. I had a very good track record about not needing to get corrections posted in the paper, but there was always a chance some letter writer would point out a mistake in a piece I wrote, or take me to task for forgetting a key fact. That didn't happen much, but I always watched for it, vigilantly.
After a while, I read Letters to the Editor whether I thought they'd have anything to do with me or not. I enjoyed hearing from what was becoming an older and older demographic. As Facebook and Twitter emerged, these letter writers still wanted to be published in the pages of the paper they were criticizing, praising, or using as bullhorn. That they took the time to write in at all at a time when newspapers were continually shrinking was flattering.
I've come to believe that these days, the Letters to the Editor at any newspaper, with its back-and-forth call and response of complaints and grievance is Twitter for people who don't fuck with Twitter (or the many who don't want to learn how to use Twitter).
If you read enough of these Letters, and by this point I've read tens of thousands, you start to see many of them are the same letter written in only slightly different variations. There's, "I am writing in because your columnist is wrong and stupid and probably a Communist." Those still get printed. There's, "Someone did something nice for me and I am writing in to thank them for fixing a stranger's flat tire alongside the highway." They are sweet and sometimes choke me up.
There's, "The president is (evil / stupid / a goddamn hero / the greatest) and if you disagree, you can go vote in November." There is the flouncy, "I have been a subscriber for 35 years but this is the last straw!" goodbye note. And then, my favorite, the Letters to the Editor that have nothing to do with anything in the news or the newspaper, but that still are vehemently emotional about how things have changed and how nothing is as good as it used to be. I call those letters the "Classic Rock Mix" because reading them feels like hearing a Stevie Ray Vaughan song on the radio while passing a closed-down Austin landmark.
If you dig into the letters themselves, you will also find that the same phrases come up again and again, as if everyone is using the same Microsoft Word Letter to the Editor template. That codified language often obscures what the letter writer is feeling or actually trying to say, so here is a translation guide for some of those words and phrases:
"I was saddened to read…" or "I read with some dismay" are two common ones. They convey that the state of the world is such a disappointment that the letter writer had no choice but to lament, publicly, as to what has been lost. But I find that "saddened" or "dismayed" usually just means "pissed off" and that it's frequently used sarcastically, as in, "I was saddened to read that (insert name of politician) is just learning how the legislature works" or "I read with some dismay that millennials can no longer afford avocado on their toast five times a week." Very few Letters to the Editor are coming from a place of genuine sadness.
"What is the world coming to?" is being used less frequently these days because we all feel like we're in a Hellish tailspin all the time, but is used to be a mockable catch-all complaint about everything from everybody being distracted by smartphones to the closing of Las Manitas in 2008 to Salt-N-Pepa lyrics. I swear this is true: a Letter to the Editor I once read could not get over the filth they were playing on the radio, including a Salt-N-Pepa song that repeated the phrase "Pussy good!" over and over. The completely serious editor's note that followed that angry letter ("What is the world coming to?") pointed out that the song title and lyric was actually, "Push it good."
"I respectfully request" usually precedes a completely not-respectful request, such as one I saw recently "respectfully requesting" the paper drop its Leonard Pitts column because of "gratuitous inclusion of race" in his columns. Mr. Pitts is African-American and the column in question was about outdated, racist attitudes toward president Barack Obama.
"I encourage" means, "Do what I suggest in this letter or you're a complete idiot." 
"As a (respectable job title) for (x) years…" is what medical specialists, engineers, and professors often say when they write in about a topic that has something to do with their work experience. Sometimes it's pedantic information to supplement what they feel was a dumbing down of information in a news article, other times it might actually be a useful rebuke to a letter that treats the laws of science as optional. But unless the right tone it struck, it usually just sounds like someone with a degree throwing their intellectual weight around to make someone else sound stupid. You'd be surprised how often that works.
"Really?" as an expression of incredulity has crept into the Letters to the Editor pages for the last decade or so, and if you're a fan of Saturday Night Live it's hard not to read it in your head as Seth Meyers and Amy Poehler repeating it over and over on "Weekend Update." What the Letter to the Editor writer is trying to convey with this simple exclamation is, "Have you gone fucking bonkers and I forgot to take my Bonkers-to-English translation pill today to understand your bonkers point of view?"
"Why not…?" means, "Hey I have a crazy idea that is way more sensible than what is actually happening because, duh, common sense, sheeple!" and it usually reduces a complex, heavily legislated problem into a so-simple-it-sounds-good-on-paper idea until you think about it for more than three seconds. Ideas like, "Why not privatize all schools and let them fend for themselves?" and "Why not abolish the IRS?" and "Why not vote out all the bums in Congress?" are frequent ones. These are almost never actual good ideas.
"What's next…?" usually precedes a list of really stupid "Slippery slope" straw-man items like, "A man marrying a goat?" but sometimes it can backfire, as when electric scooters were a hot topic in Austin. Someone wrote in to the Statesman, "What's next? Motorized pogo sticks? Motorized stilts? Motorized Radio Flyers? Motorized grocery carts?" which only provoked in me a response of, "All of those things sound awesome!"
Any ancient word or phrase. One of my absolute favorite things about Letters to the Editor is the strange usage of completely outdated words or phrases that haven't been spoken aloud by anybody in public in at least 40 or 50 years. I have read the phrase, "Lily-livered" in the Letters to the Editor. I have read about "Hootenannies." "Giant sucking sound" is still a phrase that people use from a time that no longer exists. "Cart way before the horse" is only 100 years too late but still worth mentioning in Letters to the Editor. Other favorites: "Baloney!" "Hogwash!" "Teetotaler" and "Rapscallion!" 
"I object to my taxpayer dollars being used for…" is a frequent go-to for Letters to the Editors. Tax dollars are to be used wisely and only for things the letter writer supports, not for stupid, useless, "Outlandish" things. Those who write Letters to the Editor, however, will never agree on what those things should or shouldn't be, even if you stuck them all in the same room and withheld food and water for several days in order to come up with the best way to spend tax dollars. They would just be mad that their taxpayer dollars were used for such a foolish, unproductive endeavor and go home and write a Letter to the Editor about it.
There are days when I am very cynical about Letters to the Editor (SEE ALSO: everything above this sentence), but I am glad they still exist. I'm grateful there's still a venue for people who perhaps aren't locked into social media or communicating via screens all day where they can still share their views with others and be heard. Having made the transition from someone who helps write or edit the stuff that goes into the newspaper to someone who now watches it all happen from the outside, I've come to value that section even more. One of these days, when I'm no longer freelancing, I may have something I really want to get off my chest. Maybe that's the day I write my first Letter to the Editor.
---
What do you think of today's email? I'd love to hear your thoughts, questions and feedback. I might even put 'em in the newsletter if I don't steal it outright.
Enjoying this newsletter? Forward to a friend! They can sign up here. Unless of course you were forwarded this email, in which case you should…
Want a way to send gifts and support local restaurants? Goldbelly's got you hooked up. 
I used this to order scotch delivered right to my door. Recommend.
I've lost 35 pounds this year with Noom, and haven't had to cut out any foods. Noom is an app that uses psychology, calorie counting, and measuring activity to change your behavior and the way you think about food. I'm stronger and healthier than I've been in years. Click on the blue box to get 20% off. 
If this newsletter is of some value to you, consider donating. Honestly, I'm not doing this for the money. I'm writing this newsletter for myself, and for you. And a lot of you are contributing with letters and by suggesting articles for me to post. But some of you have asked for a way to donate money, so I'm posting my Venmo and PayPal information here. I promise to waste every cent you give me on having fun, because writing this newsletter for you is some of the most fun I've had. Venmo me at @Jason-Stanford-1, or use this PayPal link.